Wedding Venue SEO Moves to the Top of Google and the Map Pack
Edgewood Inn has been a great long time client of ours. We built their website and have assisted them with their social media for many years now. If you have some time go look at the homepage video of their beautiful wedding venue and take a 3d tour of their venue! Edgewood Inn
They came to us a few months back to increase their position in Google and the Map Pack for some of their high-value keywords. They signed up for a 3-month initial SEO setup and here are their results after the 3 months.
4 Phase SEO Set-Up

Research Phase
Tracking, Plugins and Tools
Onsite/Technical Optimization
Local SEO Optimization
Research Phase
We performed a detailed SEO audit, analyzes their keywords, checked their NAP consistency which means that we checked that their name, address and phone number were correct across the internet.
Tracking, Plugins and Tools
We made sure that we either had access to or created accounts for Google Analytics, Google Search Console, Bing Search Console and Bing Places for Business. We set-up Yoast submitted their site map to Google and Bing and set up a premium site speed plugin. Below is a screenshot of their site speed improvements.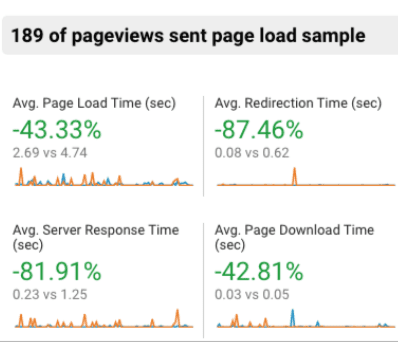 Onsite/ Technical Optimization
We optimized their meta titles and descriptions, optimized their images, site speed, added internal links, and repaired broken links and much more.
From that work came some noticeable increases in their click-through rate. For their branded keyword 'Edgewood Inn' they saw a 348% increase in clicks in that 3 month period.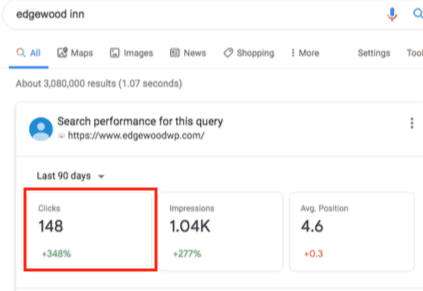 Local SEO Optimization
The main keyword that the client wanted to target was 'Wedding Venue Woodland Park' which receives 200 searches per month. They had a rather large competitor in the way. After the 3 months, we were able to get them to the top of the map pack even with their main competitor having 6x the reviews they had. See the screenshot below.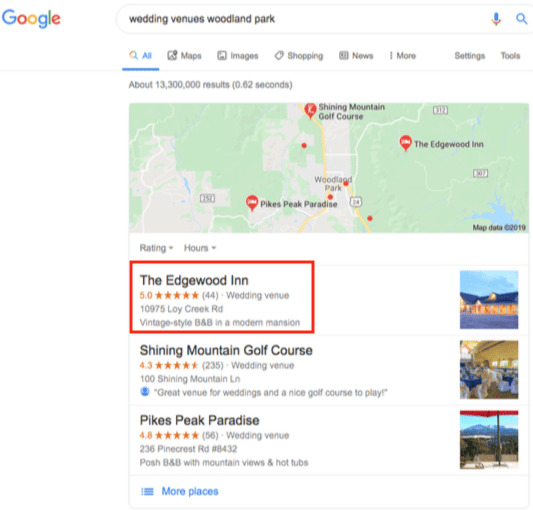 As far as their position in the search results goes they are in the 4th position. This is because of large websites like weddingwire and theknot are targeting this keyword. They are however the first website a searcher will come across that isn't a large directory.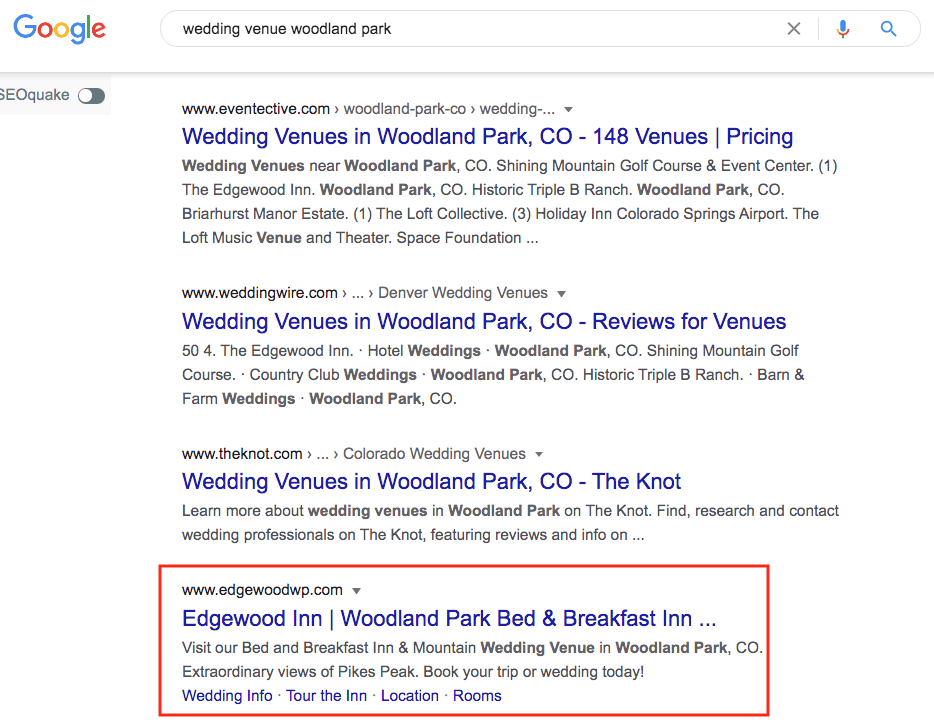 Traffic Growth – Google Analytics Data
After our initial 3 months was completed the client saw a 24% increase in traffic compared to the previous quarter and a 48% increase compared to the previous year. See the screenshot from Google Analytics below.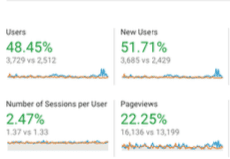 Conclusion
In our time working with local clients we have never targeted a keyword for a client and not had them move to the first page of Google and into Google's Map Pack. If you would like help with your SEO please reach out to us.
A great place to start would be signing up for our free SEO audit. I look forward to hearing from you and I would be honored to help you anyway I can.