You Don't Want A Cookie Cutter Website.
You want

your brand

to stand out.
But you also need to update your website without costing you an arm and a leg, while still being scalable to support your business needs as it grows. You need a custom WordPress website, and we're here to help.
Why should you build a Custom WordPress Website?

We have a talented team of designers and developers who are passionate about one thing: your success. We are fully committed to working with you every step of the way to produce exactly what you want. There is no cookie-cutter approach when it comes to custom WordPress websites because we understand that each client has different needs – which is why our process is completely customized, too.
Think about the last time you went shopping for something as basic as socks or underwear. The options seemed endless, didn't they? You had options for style, color, size… and so on. Custom websites are like that experience but better! Instead of sock site A vs sock site B, you get a fully integrated digital marketing strategy tailored to your business goals while creating a brand and aesthetic that will stand apart from your competition.
We are able to help make this a reality because we work with you every step of the way – from brainstorming and crafting your ideas to implementation.
Where do you want to go?

What do you want your business goals to be?

That's for you to decide! There is no "wish list" of items or services that we provide, just an endless supply of possibilities on how to get there. We pride ourselves on being WordPress experts – which means that all aspects of the journey are fully customizable too. Your website could be as simple as static pages or as advanced as a full-blown eCommerce store. Our development team can make anything happen!
Why do I need a CMS?
A content management system (CMS) is a user-friendly way of maintaining your website. If you are a small business (500 employees or less) and want a cost-effective way of updating your website, WordPress is the way to go. It allows you to update text, swap out photos, add new pages, re-order your navigation menu, sell products, and so much more… and did we mention that WordPress started as a blogging platform, so yeah. You can do that too.
Your website will be more scalable to support your business needs as it grows by responding quickly and efficiently to changes you make from anywhere on the internet with an internet connection… aka: as long as you can find a computer or connected device with a web browser, you're good to go!
---
Why WordPress?
As of July 2017, WordPress makes up almost 60% of the market share for all content management system (CMS) usage globally. They're not going anywhere any time soon.
WordPress is well documented, so anything you need to know about it can be learned through their expansive Codex or the plethora of tutorials, blogs and support forums out there. It's widespread use also makes it easy to find developers and support when you need it.
I've often said that if you can operate Facebook or Microsoft Word, then you can handle WordPress. WordPress is open-source software built with the computing novice in mind: drag-and drop image uploading, WYSIWYG text editing, page and post previews so you can see what it will look like before it goes live, and so much more. However, if you lack the time or interest to update your own site, Steck Insights can handle that for you. Ask us about our WordPress Content Management Services.
Because WordPress is so widely supported, there are so many great add-ons that make your life better and enable your business to grow. Plugins that support multi-language translation (WPML), search engine optimization (Yoast SEO), e-commerce (WooCommerce), membership tools and more!
---
Why choose Steck Insights Web Design for your Custom WordPress Website?
This is what we do. We're WordPress consultants and unashamed fanboys of this incredible platform. And we're dang good at it. That's why our clients keep coming back.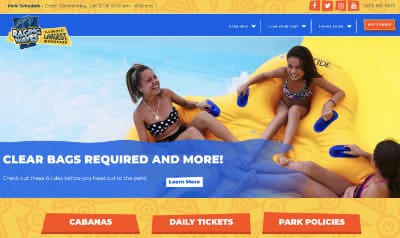 We've been building on WordPress since 2009 and use only industry-standard best practices. We build using the Genesis Framework and love StudioPress Themes as a launching point for affordable WordPress websites. These websites are secure, fast and SEO-friendly. Because we live and breathe this stuff, we're familiar with the latest trends and have honed our craft so we can deliver exceptional WordPress website design and consulting to our clients, which earns us web design awards with companies like Design Rush or winning the 2019 World Waterpark Association WAVE Review Awards for our design of RagingWaves.com.
We work hard. We work with integrity. We always try to serve our clients with the heart of a teacher. We know that running a business is hard work, so we see it as our job to make your life easier by carrying the heavy-lifting of website design. We provide "Insights" to help you see around the corner and prevent costly mistakes.
We're invested in your success.
We love WordPress and we want to shine a spotlight on how awesome it is because we are just as passionate about using WordPress for client websites as we are about building them. We also like exploring the non-profit side of things, so we know what kind of needs organizations have when they need to build trust by showing transparency in their operations or when they need to promote fund raising campaigns via mobile devices.
Our custom website designs feature high quality graphics & content, intuitive navigation and optimized functionality based on user testing. Our friendly web designers will show you that a custom website should be part of any successful online campaign
Your business is unique. Your website needs to be too. Customize your theme and create a look that resonates with you and your brand. We'll give you the platform for a more personalized site while keeping things affordable.
Steck Insights Custom WordPress Websites have been selected by DesignRush to be included in their Top Responsive Web Design Agencies!
---
Why not to work with us for your Custom WordPress Website?
We're not for everybody. For one, we're relational — we care about and enjoy our clients as humans; if your not the type of client that cares about relationship, we're probably not the right fit for you.
We charge fair and reasonable prices because our work has value and we believe that you get what you pay for; if you need a dirt-cheap website because you don't see the value in quality web design/development, there are plenty of outsourcing companies to choose from. We're not one of those. We do everything in-house, working with our local team here in Colorado Springs, CO.
As masters of our trade, we have an opinion and don't need to be micro-managed. We believe that this is where our value comes from. We invite input and are teachable, but as professionals we're confident in our craft and know that our consulting is valuable. We don't need clients to think for us; we wouldn't be doing our job and you wouldn't be getting your money's worth.
If you'd like to know more about hiring Steck Insights for your next project, contact us today so we can get to know you and make sure we're a good fit for your needs.