Search Engine Ranking Signals Are Changing
Have You Noticed

Sudden Drops

In Keyword Position?


Site-Speed

May Be Your Problem.
We Can Get You

Back On Track!
Why Should You Consider A WordPress Speed Optimization Service?
The importance of WordPress Speed Optimization Service is falling in line with the fact that times are rapidly changing. The Pandemic expressed the need for businesses to increase their online presence and need to adapt to consumer needs and wants.
With the majority of the population abroad having access to cell phones and high-speed internet. People want to find anything over a mobile device in the same way they once accessed them over a desktop. Search engines such as Google and Bing have noticed this need and are beginning to adjust accordingly.
Simply put, if you are concerned with Search Engine Optimization site speed performance needs to be a priority. WordPress Speed Optimization Service is here to help.
What Changed And Why Would I Need A WordPress Speed Optimization Service?
In December 2020 Google presented an early Christmas present to website owners and Search Engine Optimization Strategists with a core update. This update created opportunities for some websites and wreaked havoc on others. The affected sectors are Health, Real Estate, and Law & Government. Sectors such as Travel and Finance saw drops from desktop and other sectors such as Jobs & Education saw drops in mobile.
Search Engines have been progressively shifting their focus to the importance of mobile user experience and mobile performance. It is safe to say that a Mobile-centric focus will remain in place and will only continue to grow in the future. Site speed is a large factor when it comes to user experience.
How Do I Check My WordPress Website For Speed Performance?
There are a variety of site speed tools available to choose from. For our WordPress speed performance services, we tend to stick to the following three tools.
GT Metrix
GT Metrix has always been a go-to. We like to confirm our scores from various reputable sources. GT Metrix is fast, simple, and easy to use. To conduct your own test, go to the GTmetrix site and input the URL of the page you wish to check for site speed. It's as easy as that! Your results will look something like the image below.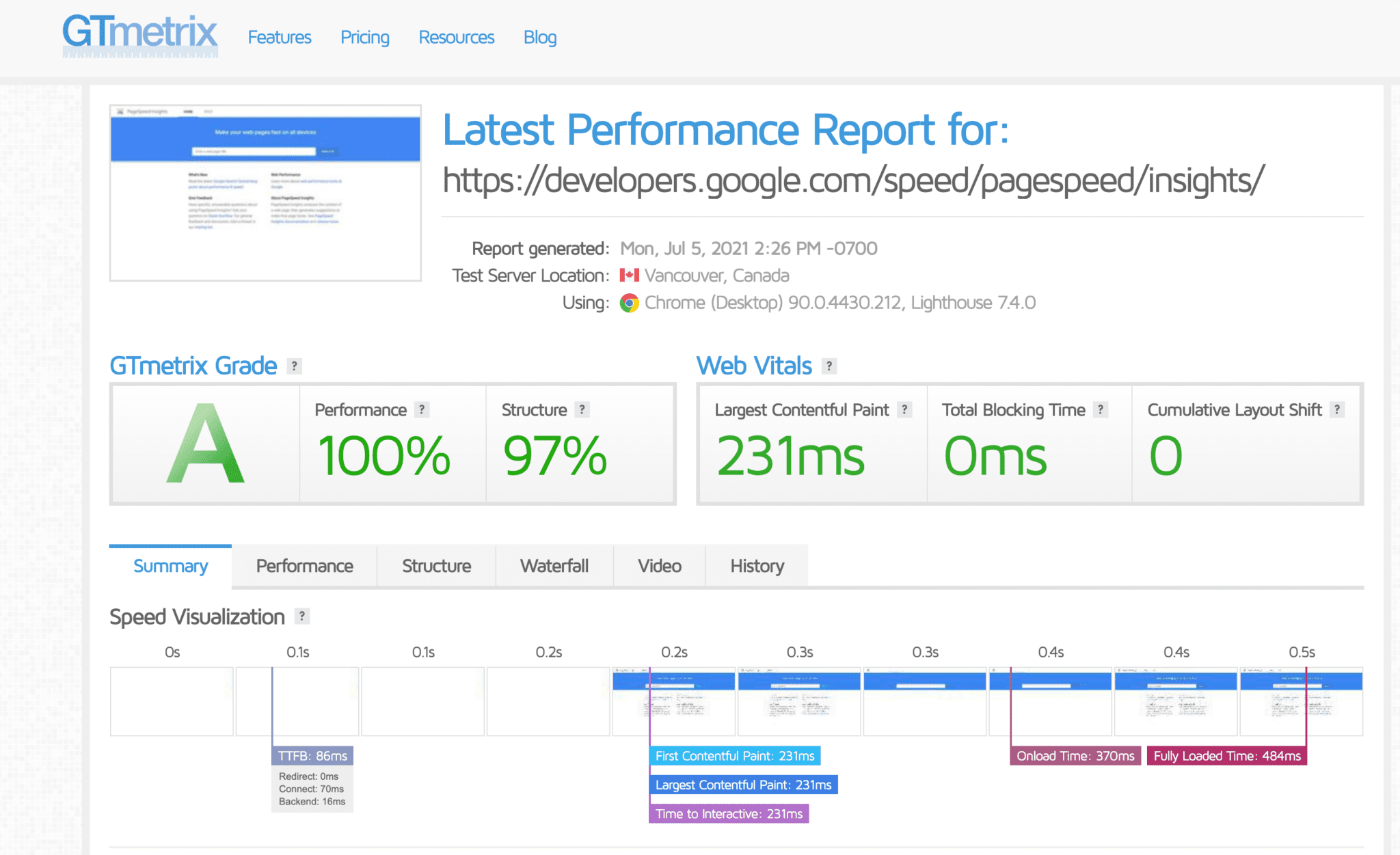 The drawback to using this method is that we aren't getting the full picture of how your site may be performing in desktop vs mobile.
Google PageSpeed Insights
For your performance score first, visit the PageSpeed Insights Website. To avoid any conflict with browser plugins we recommend doing a right-click on the link above and opening the website in an incognito window.
*Keep in mind that these tests are simulating throttling, meaning the scores are being run as if the page was being loaded on a 3g Network that has not been cached.
Enter the URL of the page you wish to scan.
Hit Analyze.
Look through your results to see your performance metrics.
Select the device on the top left corner to view your respective scores.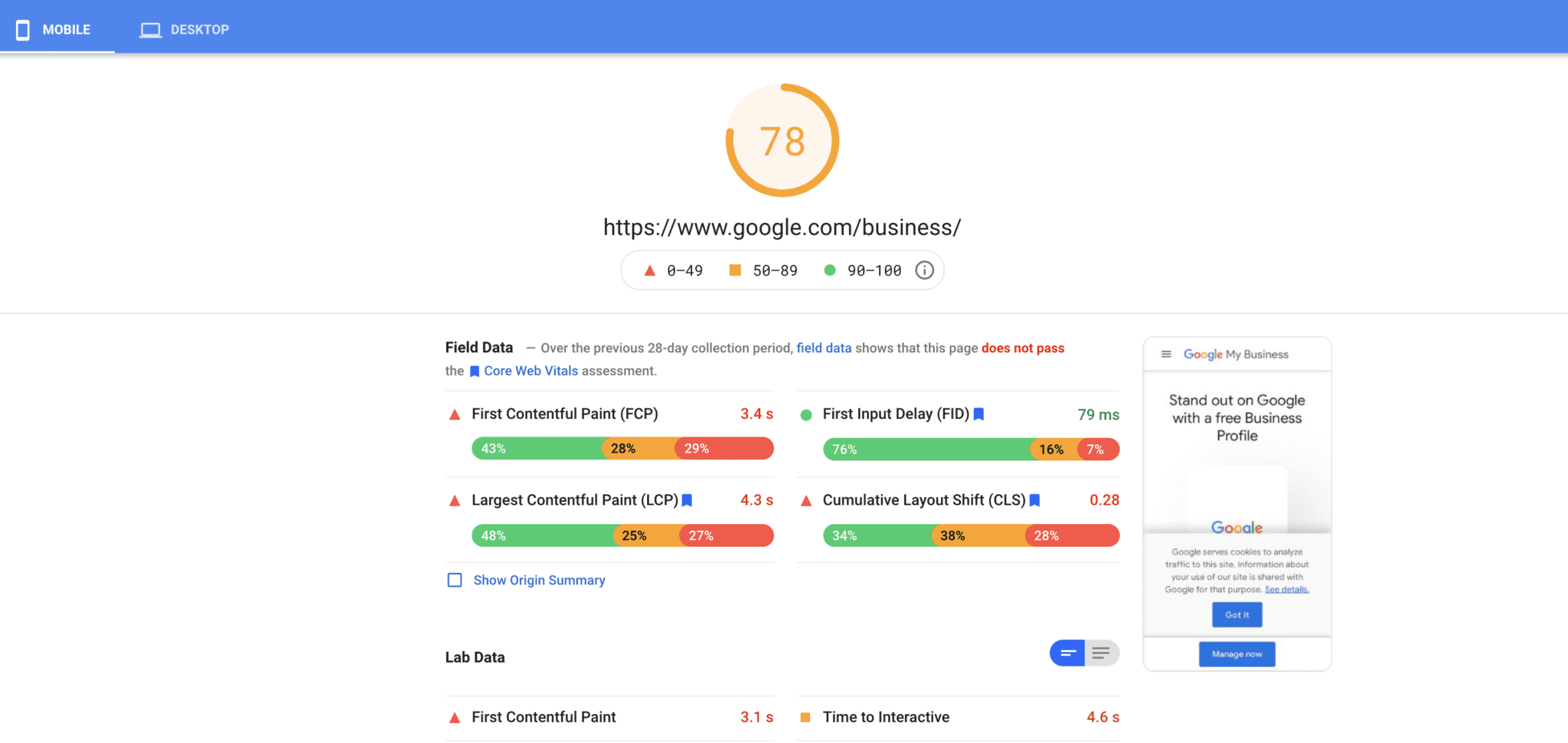 Chrome Developer Tools | Lighthouse
This option may be geared more toward Web Developers and Web Designers.
*Keep in mind that these tests are simulating throttling, meaning the scores are being run as if the page was being loaded on a 3g Network that has not been cached.
Open up the web page you wish to audit in an Incognito Tab.
Right-click/two-finger tap anywhere on your desired web page.
Click on the inspect option.
Select the Categories you wish to Inspect. (Testing runs faster if you only select Performance)
Choose between Mobile and Desktop
Hit Generate Report and Wait for your results.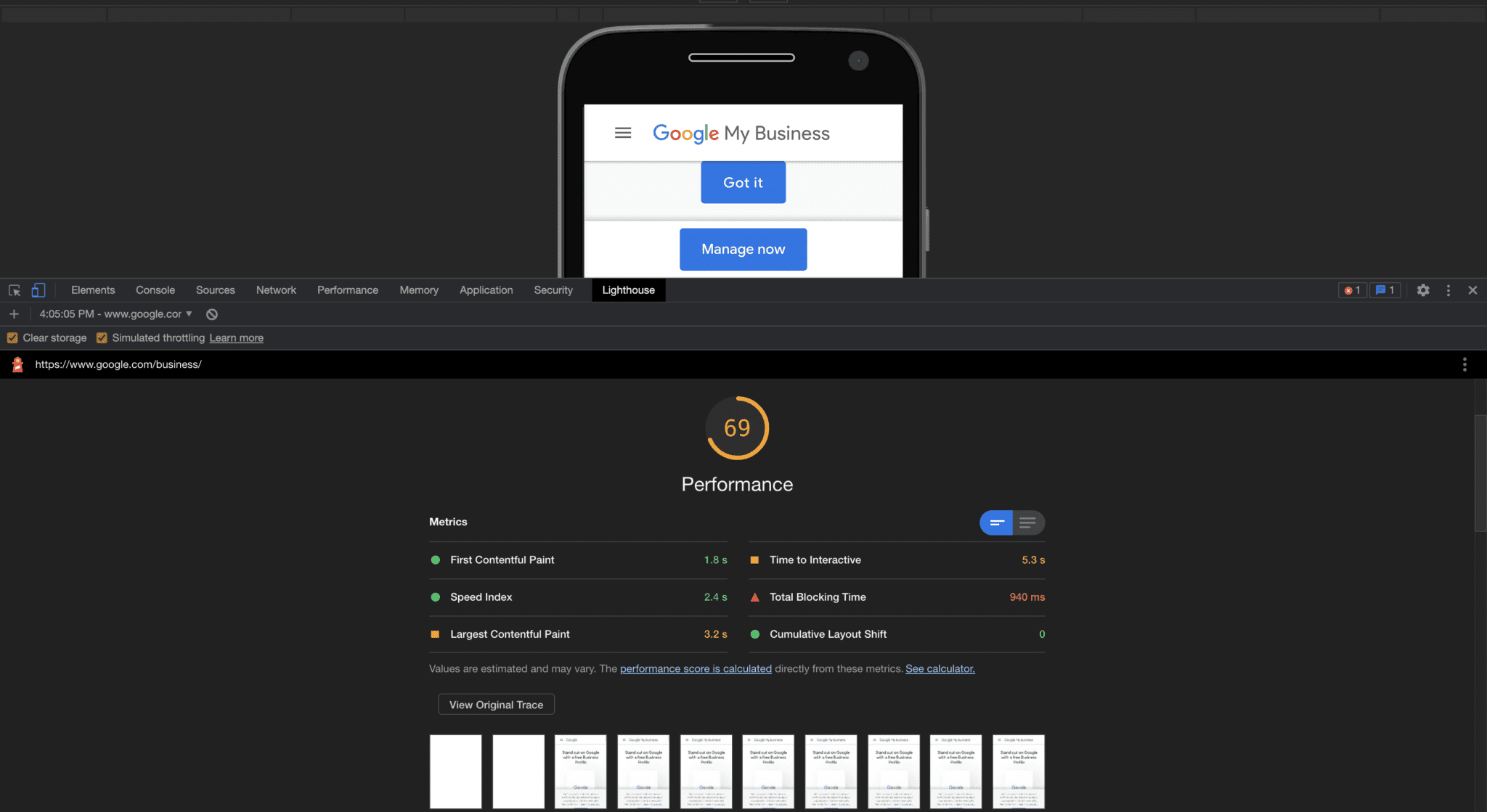 Is all of this Information a bit overwhelming?
Our WordPress Experts Are Here To Help!
WordPress Speed Optimization Service
Contact Us To Discuss Optimizing Your Site
Steck Insights Speed Optimization Includes…
Desktop And Mobile Site Speed Audit
Testing In A Safe Environment
Tracking Improvements
Progress Reporting
Installing and Configuring Site Speed Tools
Custom Image Optimization
Mass Image And File Compression
Compiling & Minifying JS/CSS Files
Implementing Efficient Caching Methods
Applying Delayed File & Image Loading
Fixing Core Web Vital Errors
Removal Of Unnecessary Plugins (Sitewide)
Disabling Unnecessary Plugins From Individual Pages
Mobile Friendliness Audit
User Experience Consultation
Which metrics are being analyzed?
Don't take my word for it, this is the latest information coming straight from Google.
Core Web Vitals
The page provides a good user experience, focusing on the aspects of loading, interactivity, and visual stability:
Essentially what this means is that a score of 50-90 should be improved for mobile and desktop. If you are in the range of a 90+ score you can breathe a sigh of relief knowing that you are in good standing. Unfortunately, It may be a rare occurrence to receive a "good" score for Mobile without some effort.
Which factors may be slowing down my Website?
Without going too far down the rabbit hole, here are some of the worst offenders when it comes to Site Performance.
Plugins, Plugins, and More Plugins

Plugins can be very useful and the functionality they can add to a WordPress website may have been a factor in choosing WordPress as a CMS. The drawback is Business owners may have added and tested plugins on their site and forgot to remove or disable them.
Business owners hire multiple web designers and they add, test, and don't bother to remove plugins. By the time it gets to trying to figure out which plugins are being used and which are not the damage has been done and it becomes a daunting and somewhat risky task. Removing the wrong plugin can result in breaking a live site. This is where we come in to test your website in a testing environment where we can safely remove and/or disable plugins from your website.
Images
With the simplified uploading features built into the WordPress Dashboard. It can be easy to add large images without thinking about the impact they may have on Performance. Some images are far too large and even though they may be resized in your browser this doesn't mean that they are small files. Even images less than 1MB can affect a site's performance. We can go through and compress all of your images, certain images we may manually resize to an appropriate size. We take into consideration the potential for loss of quality and will make sure that aesthetics and styling are not compromised in any noticeable way.
Themes
The reality is that some WordPress themes are more "lightweight" than others out of the box. Depending on the theme that was chosen, it may create a massive roadblock and can result in performance plateauing at a mid-level score without much variability. This may not be what site owners want to hear, but the uncomfortable truth is… a full re-design or mobile re-design may be a necessity if site performance is a high priority.
Stay Proactive, Not Reactive.
WordPress Speed Optimization Service Is Only One Factor
WordPress Services From Steck Insights
Site-Speed Isn't The Only Signal That Caused Volatility With Recent Google Updates.
Don't take my word for it, this information is also coming directly from Google's Documentation. These are some of the signals that Google and other Search Engines will be looking for that should be considered.
What Does This Mean?
To summarize, the documentation states that Google will be updating how these signals are analyzed on a yearly basis. It means that these signals may have a larger impact by next year. Your site speed is only one signal in an update that is evaluating user experience as a whole. Google notices that a large percentage of users leave sites if a page does not load within the first 3 seconds. They want users to be able to safely find the most relevant content pertaining to their search quickly and without interruption.
Contact Us About Our WordPress Speed Optimization Services!