How To Fix WordPress Comments Feed 404 Error in Google Webmaster Tools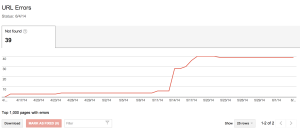 Recently, I was completing SEO work for a client and noticed that they had several 404 errors in their Google Webmaster Tools Crawl Erros toolbox. Digging in a little bit more, I discovered that some were a result of a missing https:// in the URL, but others seemed to be coming from the author pages.
In particular, these Google crawl errors were in the form of /author/feed/, which is the RSS feed for author comments.
As it turns out, if you don't have comments on your blog posts, WordPress can't generate a feed. Go figure.
Solution 1
Add a comment yourself. Go ahead. Tell yourself how great your post really was and that it was the result of the evil winds of internet misfortune that caused this.
Better yet, send it out, personally, to a friend, family member or co-worker and see if they'd be willing to start the discussion.
More resources
Another author who discovered this same issue came up with a solution (that I don't recommend, because it involves editing WordPress core files) that I will pass along, in case you're feeling very ambitions and don't have too much pride to comment on your own post. 🙂