How to avoid hosting & domain name scams
We see domain name scams from time to time when we are contacted by clients who receive notices that their hosting is renewing or domains expiring. Many times these are legitimate reminders, but occasionally we find that these "reminders" are false offers from companies either trying to lure them away or flat-out lies meant to steal their money or their domain names. We'd like to offer some suggestions on how to avoid hosting scams and domain name scams.
What does a hosting scam look like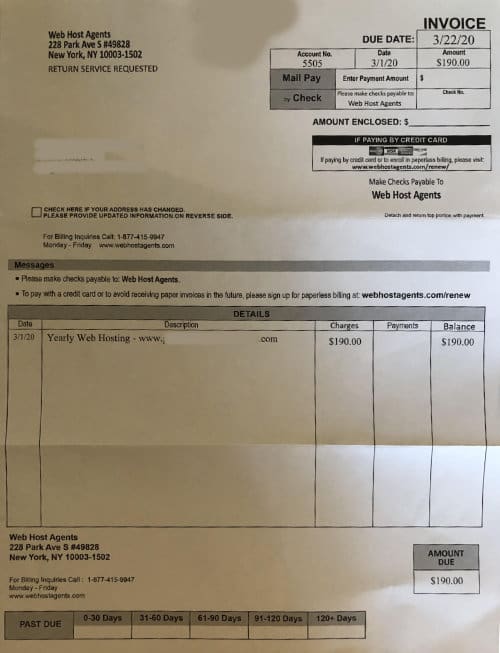 One sample scam will come in the form of a letter to your home. The letter will tell you that your web hosting or domain renewal is expiring or that you are up for renewal. But the company sending the letter will have a generic and unfamiliar name like this letter from "Web Host Agents" based out of New York. Avoid companies like these.
In this case, they are saying the hosting is up for renewal. We know this is a scam because we only host our clients with 3 companies: Kinsta, WP Engine, and SiteGround (we avoid GoDaddy like the plague and recommend clients pick better WP-specific hosting options).
This client was smart enough to reach out when they received this and we were able to instruct them to ignore the scam bill.
Other domain name scam or hosting scam examples:
An email reminder from a company you don't recognize
An amount that is significantly different than your typical rate
A letter that says "this is not a bill but a solicitation" (some companies aren't trying to break the law — they're just being unscrupulous in their methods). By signing this and sending payment, you're agreeing to have your domain transferred to them.
Companies that have been known to scam web hosting customers and domain owners:
But how would you detect a hosting or domain name scam?
One method is to confirm your current host and the domain registrar. Using a service like WHOIS you can see the domain registrar and nameservers (which often will be your hosting provider) on file. Just type in your domain name and they will show you when the domain was registered when it expires, who it's registered through and who your hosting nameservers (the place that keeps track of your DNS records) are stored with.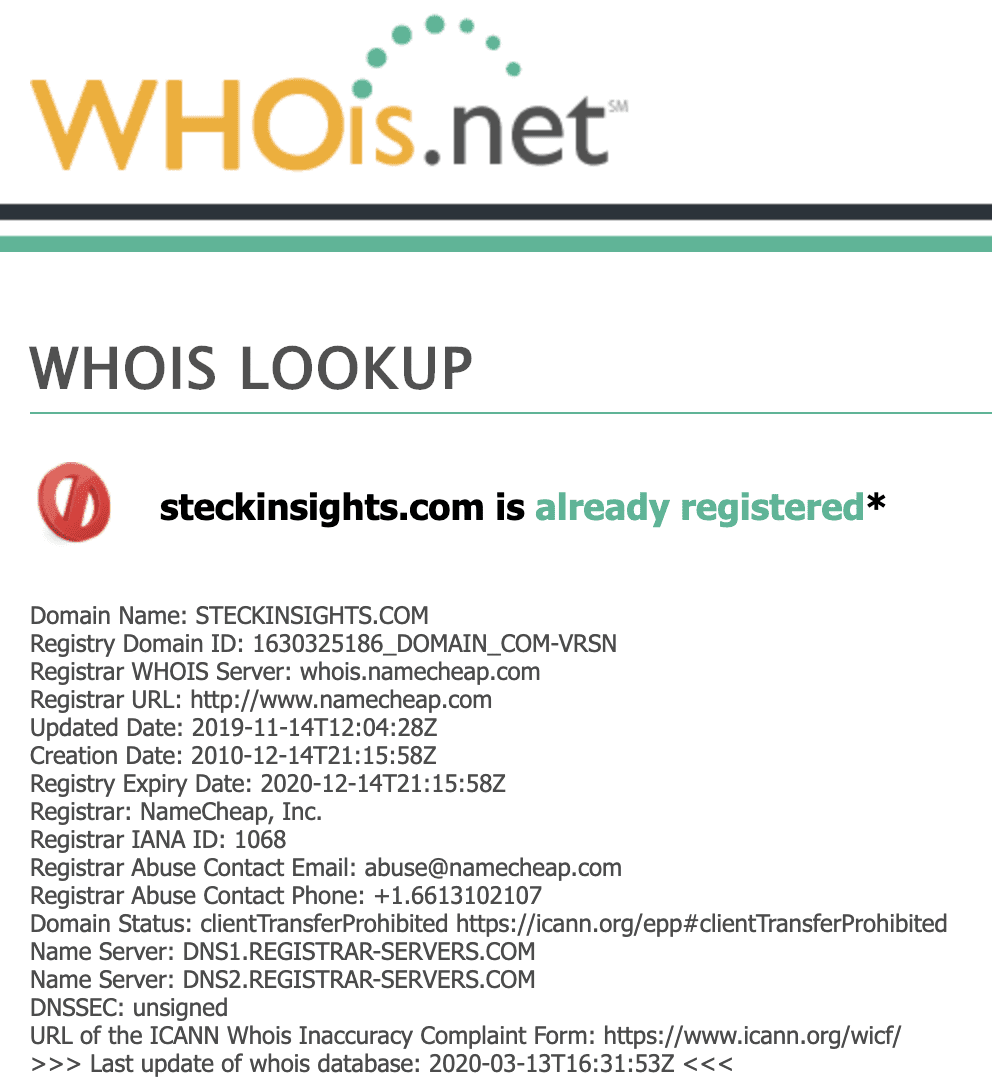 Usually, this alone is enough to assuage your fears. If you can't tell from that information, feel free to contact us and we'll help you track down the truth.
With the advent of easy-to-use web platforms like WordPress (which we love) many people have become DIY website owners. This is great but can leave you vulnerable to scammers who prey on unsuspecting business owners and individuals. Because of this, we recommend working with a professional web developer who can help you keep track of your domains and hosting. We keep logs for all of our clients so we can help them track down the information they need and confirm whether the renewal reminders they receive are legitimate or not.
Our WordPress maintenance plans include hosting and keeping an eye on your domain so there aren't any issues or fears of losing your domain.
No matter what you choose, whether to DIY or work with a professional, be on guard. There are many hosting and domain name scams out there.